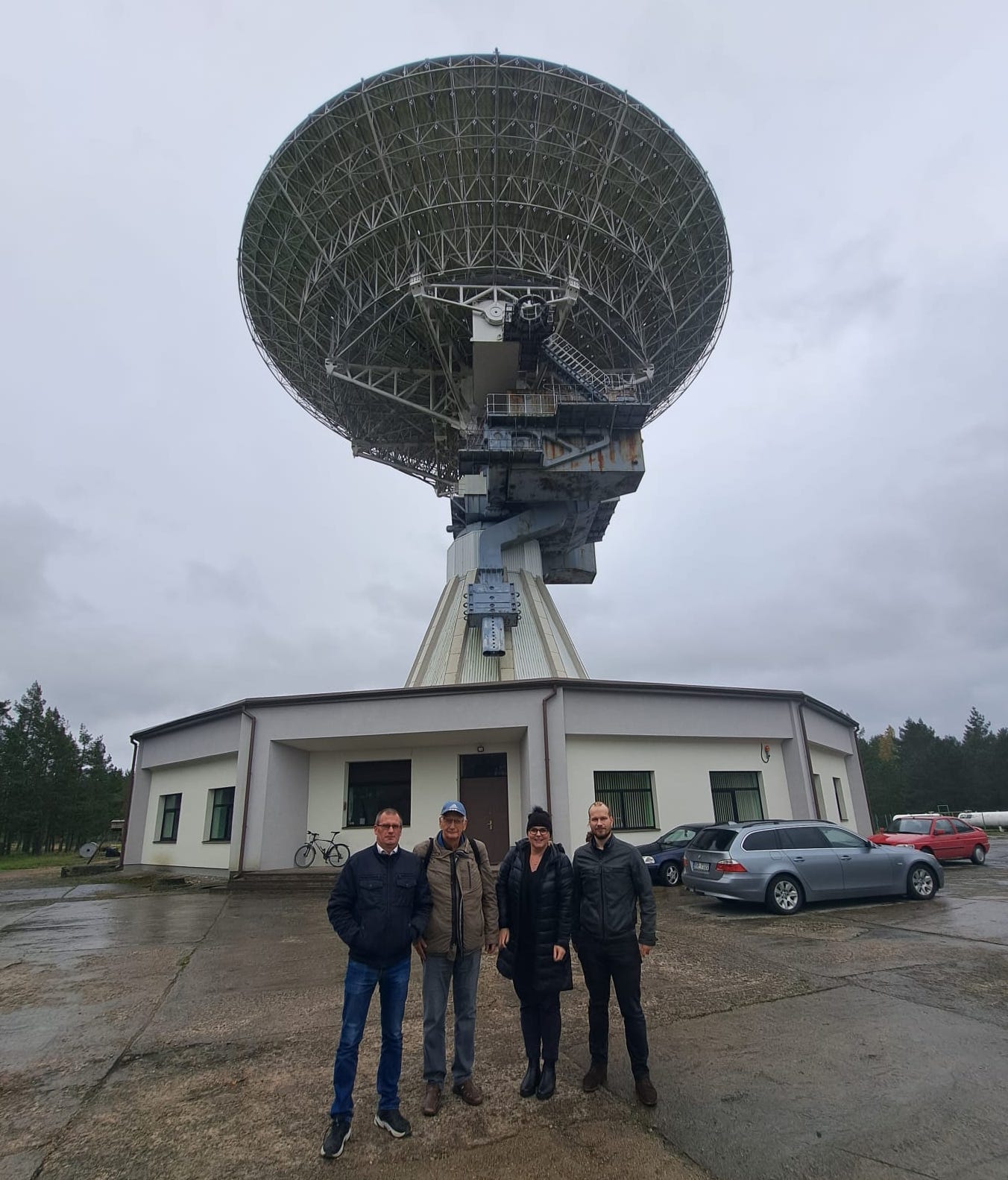 Photo: Visit to VIRAC's 32-metre telescope, refurbished between 2011 and 2016 and modernized in 2022. From left to right: VIRAC researchers Vladislavs Bezrukovs and Ivars Šmelds, JIVE director Agnieszka Słowikowska‪, Head of Engineering at Ventspils International Radio Astronomy Mārcis Donerblics.
Agnieszka Słowikowska‪ recently traveled to Latvia to meet the people actively engaged in the vibrant collaboration among Latvia, JIVE, and EVN and introduce herself as the new JIVE director to them. Latvia, as a valued associate of EVN since 2016 and JIVE's partner since 2017, plays a significant role in this enduring relationship. She also enjoyed a tour to the Irbene telescopes and had meaningful conversations at the Republic's Ministry of Education and Science.
In particular, JIVE director met with prominent members of the Research and the Engineering and Technical Operations groups of the Ventspils International Radio Astronomy Centre (VIRAC) to learn about their work and discuss new possibilities of collaboration. VIRAC is a dynamic component of Ventspils University of Applied Science (VUAS).
Along with them, she visited VIRAC's two telescopes, nestled within the lush woods of the village of Irbene, 30 kilometres to the north of Ventspils. Former Soviet army military intelligence antennas, the two installations became accessible only after the final withdrawal of the Russian army in 1994, three years after Latvia regained independence in 1991. With the establishment of VIRAC in 1994, the 32-meter and 16-meter Irbene radio telescopes have made significant contributions to astronomy, astrophysics and space technology research. Equipped with C, M, X, and L band receivers, they support 90% of EVN observations, with even greater contributions anticipated upon the completion of the K-band receiver, expected in 2025. RT-32 also performs routine spectral polarimetric observations of the Sun by the multi-channel spectral polarimeter, capable of observing circular polarization of the solar emission in 4.1-14.3 GHz bandwidth, divided into 12 frequency bands.  
Since January 2023, VIRAC's telescopes have been participating in two new 3-year research projects: "Multi-Wavelength Study of Quasi-Periodic Pulsations in Solar and Stellar Flares" and "A single-baseline radio interferometer in a new age of transient astrophysics", lead by guest leading researchers Prof. Valeri Nakariakov and Dr. Ross Alexander Burns. 
On the last day of her trip, JIVE director, accompanied by VUAS Rector Prof. Adris Vaivads and VIRAC researcher Vladislavs Bezrukovs, visited the Ministry of Education and Science of the Republic of Latvia. There, they had the opportunity to meet with Janis Paiders, Deputy Director for Research at the Ministry's Department of Higher Education, Research and Innovations, and discuss with him the current and future aspects of this vibrant partnership.