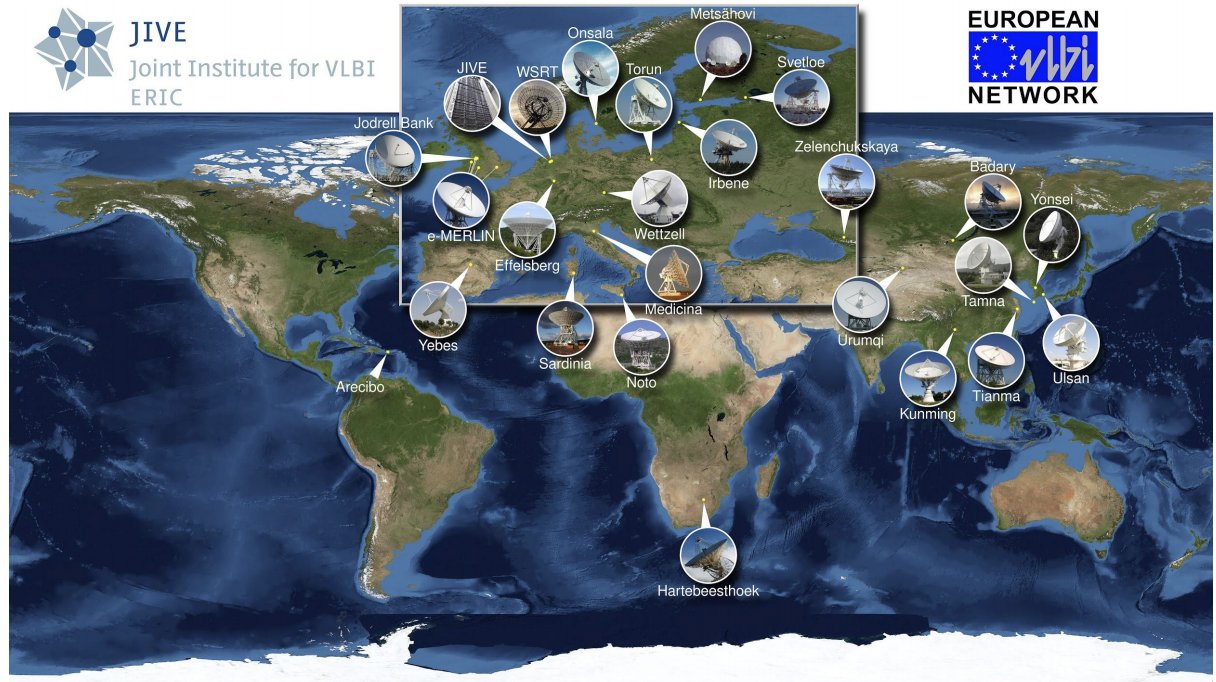 The January 2023 issue of the EVN/JIVE Newsletter is now available and includes relevant updates of the European VLBI Network. The Newsletter can be accessed here.
Highlights of the January 2023 issue include:
Announcement for the new call for proposals to use the European VLBI Network (EVN);
Information about contribution of the EVN and JIVE to the global effort to study masers, gravitational lenses and novae;
News from the EVN Network Members and collaborators including the announcement of the new JIVE Director, the farewell from former JIVE Director Fracisco "Paco" Colomer, the publication JIVE Gender Equality Plan,  report from solar eclipse observations at Metsähovi (Finland), the processing of VLBI observations in CASA and announcement of JUMPING JIVE VLBI Comics available in English and French;
The announcement of the RADIOBLOCKS project - coordinated by JIVE and awarded 10 M€ by the European Commission - that brings together major European Research Infrastructures to develop "common building blocks" for next generation technologies for radio astronomy infrastructures;Updates regarding the H2020 ESCAPE and the OPTICON-RadioNet Pilot (ORP) projects;
Reports from the ERIS 2022 School and the 3rd Next Generation VLBI workshop co-organised by JIVE and ASTRON in Dwingeloo (the Netherlands) in September and October 2022, respectively.
The EVN/JIVE Newsletter is published quarterly and previous issues could be found at the EVN website. Next newsletter issue will be published in May 2023. Ideas for contributions can be submitted until 28 February 2023 by contacting communications@jive.eu.
Additional information
The European VLBI Network (EVN) is an interferometric array of radio telescopes spread throughout Europe, Asia, South Africa and the Americas that conducts unique, high-resolution, radio astronomical observations of cosmic radio sources. Established in 1980, the EVN has grown into the most sensitive VLBI array in the world, including over 20 individual telescopes, among them some of the world's largest and most sensitive radio telescopes. The EVN is composed of 13 Full Member Institutes and 5 Associated Member Institutes.
The Joint Institute for VLBI ERIC (JIVE) has as its primary mission to operate and develop the EVN data processor, a powerful supercomputer that combines the signals from radio telescopes located across the planet. Founded in 1993, JIVE is since 2015 a European Research Infrastructure Consortium (ERIC) with seven member countries: France, Italy, Latvia, the Netherlands, United Kingdom, Spain and Sweden; additional support is received from partner institutes in China, Germany and South Africa. JIVE is hosted at the offices of the Netherlands Institute for Radio Astronomy (ASTRON) in the Netherlands.
Image
Distribution of EVN Telescopes around the world. Credit: JIVE &  Earthview/www.fourmilab.com.