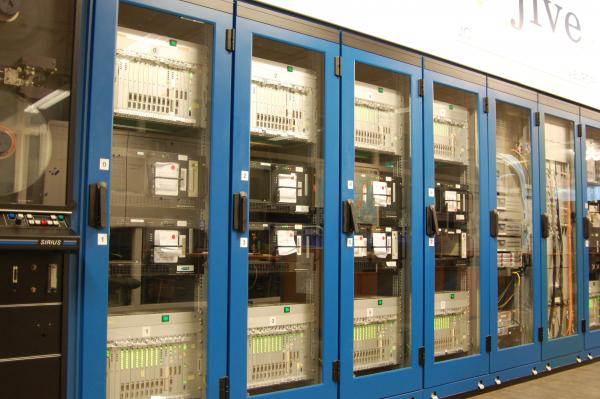 A European Commission Decision adopted today will allow JIVE, the central facility of the European VLBI Network (EVN), to become an ERIC (short for European Research Infrastructure Consortium), making this international collaboration easier and more efficient. Europe's large radio telescopes regularly observe together in Very Long Baseline Interferometry (VLBI) campaigns in order to explore the Universe with the highest possible angular resolution, mapping out gravitational lenses, resolving supernova explosions, pinpointing black holes and measuring motions and magnetic fields close to newly born stars. To reach the highest possible resolution and the best possible sensitivity, the EVN in fact includes radio telescopes situated not only in Europe, but also in Asia, South Africa and the Americas. At the centre of its operation is JIVE, founded 20 years ago, which combines the signals from all the telescopes on a dedicated supercomputer and prepares the results for the users, astronomers from around the world. Whereas the telescopes of the European VLBI Network collaborate in a consortium, the Commission Decision adopted today will allow JIVE to continue as an international research infrastructure. This will give it many of the administrative advantages and tax exemptions enjoyed by major international organisations, with much simpler procedures.
The possibility to form this new kind of consortium was recorded in the European Research Infrastructure Consortium Regulation, adopted by the EU in 2009. The new status will allow JIVE to function more effectively and for a start assures its funding for the next 5-year cycle. The Commission Decision adopted today concludes a process during which the role and ambition of JIVE in radio astronomy and the European research arena in general was extensively discussed and further defined.
Through a number of EC-funded RadioNet collaborations JIVE and the EVN have implemented a very fruitful access programme, which has considerably increased the use of VLBI by European astronomers. Impressive technological enhancements were achieved through the (N)EXPReS projects, which introduced e-VLBI, allowing real-time VLBI observations by transporting high-bandwidth data around the world over optical fibres. The organisations participating in JIVE have received praise for deploying revolutionary Internet techniques and developing and applying high-performance processing boards. JIVE continues to strive for further enhancements by increasing the sensitivity of the EVN, the number of telescopes in the array and by introducing new techniques, including timing and frequency distribution to the antennas. Besides reaching for fainter and more distant sources these developments enable additional cutting-edge applications for astronomy, as well as for accurately determining the position of spacecraft across the solar system.
Some of the more recent astronomical results can be found through the JIVE news archive.
Four countries are members of the new ERIC: the Netherlands (NWO), the UK (STFC), Sweden (Swedish research Council) and France (CNRS). Five additional countries, Italy, Spain, South Africa, Germany and China, will contribute to JIVE as well. JIVE will continue to have its headquarters in Dwingeloo, Netherlands, where it is hosted by the NWO institute ASTRON.
The formal dedication ceremony will take place on April 21, 2015.

For more information:
Prof. dr. Huib van Langevelde
+31-521-596515
+31-6-21201419
langevelde@jive.nl