Logistics
The conference will be hosted by JIVE and ASTRON.
All participants are expected to arrive on Monday, 3 September 2018 and depart on Friday, 7 September 2018. On both dates, we will arrange free shuttle busses between Hoogeveen train station and Hotel de Borken. The shuttle buses will depart at Hoogeveen 15:30 and 16:30 on 3 September 2018. On 7 september we will organise two shuttle buses back to the train station between 8 and 10AM, exact times to be confirmed. Please inform us (yerac2018@jive.eu) of your arrival time and departure time in Hoogeveen. For arrivals and departures outside the scheduled shuttle times, we can assist with taxi booking but you will be responsible for the costs, 31 euros one way to be paid in cash.
For a train schedule, please look at the website http://www.ns.nl/en/travellers/home.
If you require additional assistance or have special transportation needs, you can contact us at yerac2018@jive.eu
Route from ASTRON to the Bospub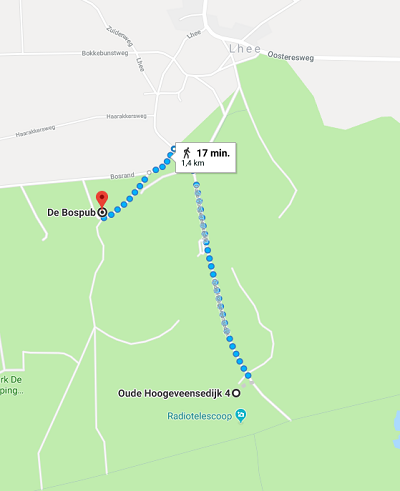 View Larger Map