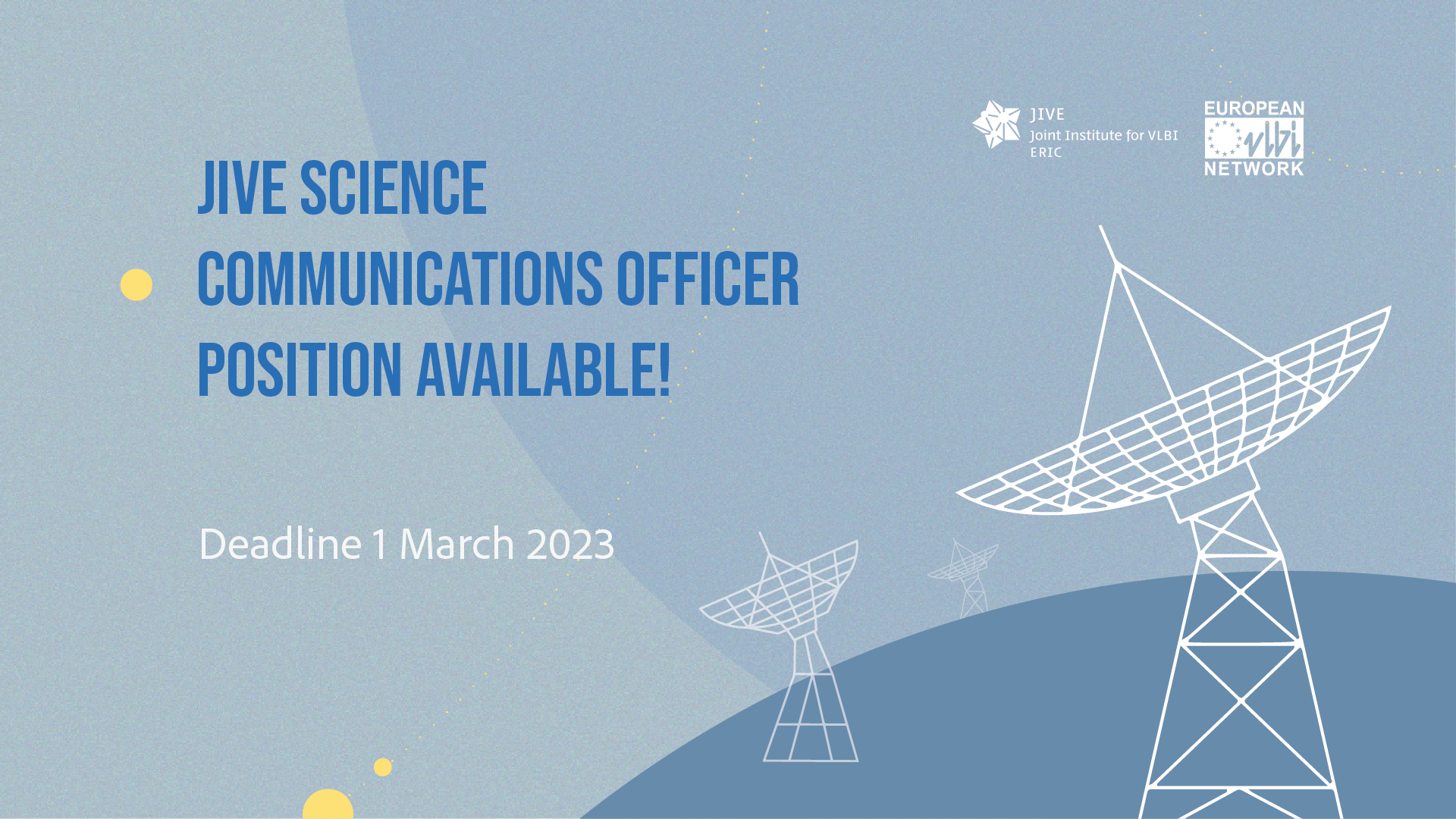 JIVE invites applications for the position of JIVE Science Communications Officer. Deadline for application is 1 March 2023.
Job Description
Principal responsibilities of the JIVE Science Communications Officer include (but are not limited to):
advising JIVE staff and management on communication;
measuring the deployment and effect of the communication efforts: analyses the data; evaluates the efforts on the basis of the set frameworks, makes proposals for improvement and implements them;
contributing to the drafting, development, updating and implementation of communication policy and resulting guidelines and procedures;
coordinating the dissemination of VLBI science results with the international partners, to the European community at large and the press;
producing written material describing JIVE and the EVN as an excellent European research infrastructure;
coordinating the production of diverse reports, the JIVE Annual Report and the EVN Newsletter;
overseeing the production of advertising material aimed at policy makers, scientists and the general public;
contributing to the on-line presence of the EVN and JIVE by collecting material for websites and social media;
In exceptional cases this position can be extended with additional responsibilities in policy development or web site development.
Job Requirements
an academic level of education, preferably MSc or higher in a science background;
an education and/or 2+ years' experience in science communication;
a flawless command of written and spoken English is essential;
Knowledge of Drupal CMS will also be an advantage for the consideration of the applicant.
We offer:
A fulltime temporary appointment in the service of the Netherlands Foundation of Scientific Research Institutes (NWO-I) for the duration of two years in first instance, which can be extended for a total duration of three years based on good performance (part-time can be negotiated);
A gross monthly salary in scale 10 (WVOI), level depending on relevant experience;
A holiday allowance of 8% and a year-end bonus of 8.33% of the gross annual salary;
A solid pension scheme (ABP);
42 vacation days per year on a full time basis;
An excellent package of secondary benefits, including relocation expenses, an opportunity to participate in the collective healthcare insurance and parental leave;
The terms of employment are in accordance with the Dutch Collective Labour Agreement Research Institutions (WVOI).
JIVE is an equal-opportunity employer. Applicants of any nationality/citizenship are eligible to apply.
Information
For more information about this vacancy, please contact the HR department (hr@astron.nl). For additional enquiries please contact drs. Aukelien van den Poll (poll@jive.eu).
Applications
Applications should contain a CV including examples of previous works. Please forward application materials to hr@astron.nl, mentioning reference number JIVE2022/11. Please arrange for up to three letters of reference to be sent separately to the same address. All application materials should arrive by 1 March 2023.
All the information above is also available on the job advertisement page.